Maintaining accurate and comprehensive records of your Amazon business orders is vital for tax purposes and managing your business expenses. Ordigo makes this task effortless by linking your Amazon account, collating your transaction history, and providing an easily accessible spreadsheet of your order history.
Linking Your Amazon Account to Ordigo
To begin, log in to Ordigo and navigate to the Account Settings page. Here, you can link your Amazon account by clicking the Link Account button and following the prompts. Your Amazon orders will then be accessible through Ordigo.
Accessing Your Amazon Orders
Once you've linked your Amazon account, proceed to the Orders page. This page will display a comprehensive list of your Amazon orders, making it easy to review your order history at a glance.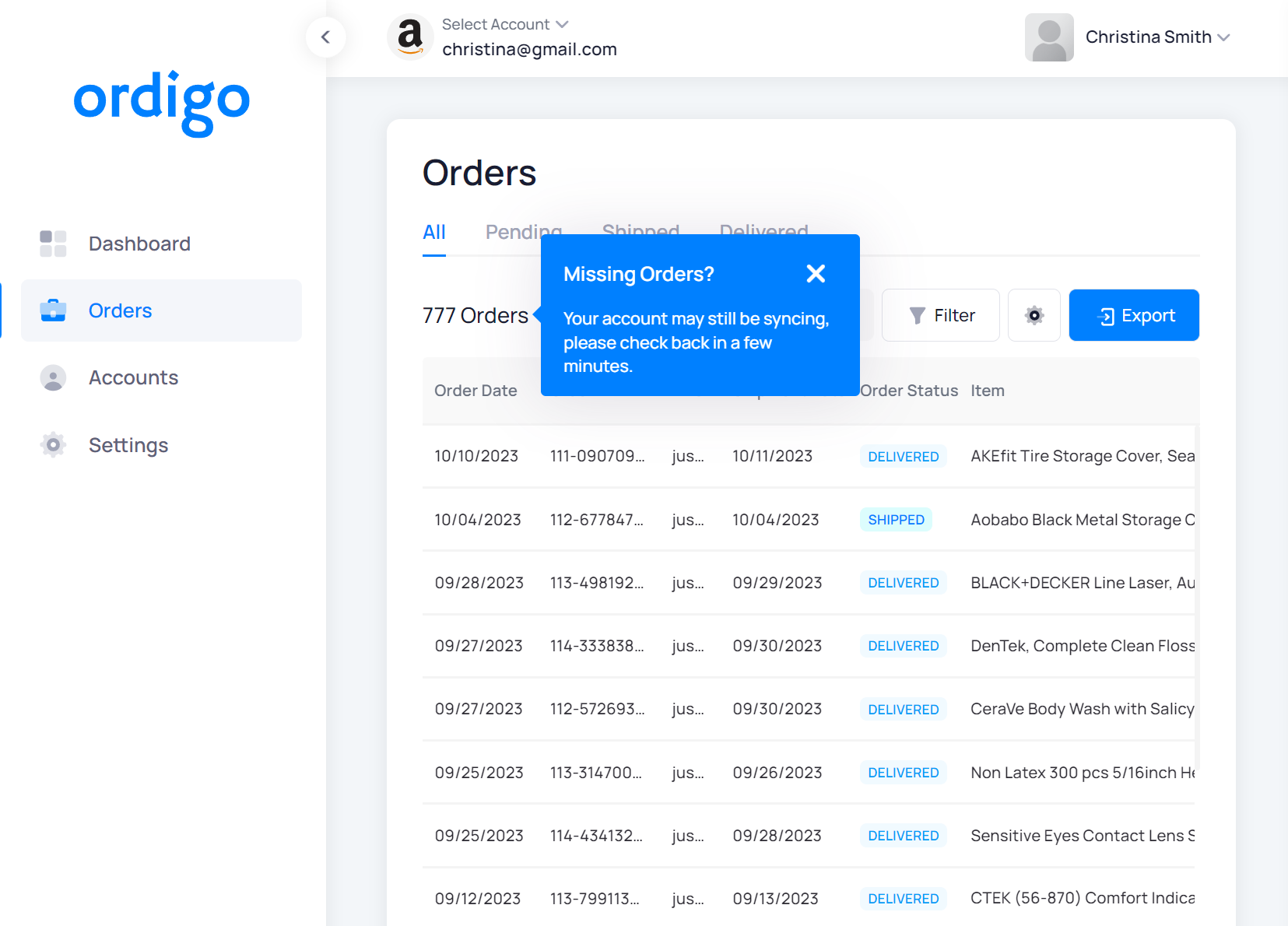 Exporting Your Orders for Record Keeping
Ordigo simplifies your tax process by allowing you to export all your transaction data into a spreadsheet. This makes it easier to share your records with your accountant or tax professional, ensuring accurate record-keeping for your Amazon business.
Importing Your Orders into QuickBooks
Ordigo is not only an efficient tool for managing your Amazon business but also simplifies your accounting process by allowing seamless integration with QuickBooks. Follow the steps below to import your exported orders into QuickBooks:
Open QuickBooks and go to the File menu.
Select Utilities and then Import. Choose Excel Files if you exported your orders from Ordigo as an Excel file, or CSV files if you exported as a CSV file.
Browse to the location where your exported file from Ordigo is saved and select it.
Follow the on-screen instructions to map the columns from your imported file to the correct fields in QuickBooks.
Once everything is correctly mapped, click on Import and your orders will be imported into QuickBooks.
By regularly importing your Amazon orders into QuickBooks, you can maintain up-to-date accounting records, making tax time less stressful and giving you a clear picture of your business's financial health.
Staying on Top of Your Expenses with Ordigo
With your orders seamlessly integrated into Ordigo, you can keep an eye on your expenses, track your orders, and make strategic decisions for your business. Ordigo brings efficiency to managing your Amazon business, helping you streamline your processes and optimize your profitability.